The Business of Pilates – It's More than the Method
You can grow a thriving Pilates business that doesn't require a 60-hour work week, running between three studios or working from 5am to 9pm just to get enough clients to fill your schedule and just scrape by.
You can attract the right clients to your business. Ones who will love what you do and stay for the long term.
You can strengthen your Pilates skills, develop your unique teaching style and become the brilliant Pilates teacher you were born to be.
I'll show you how.
I work with dedicated Pilates teachers who are ready to get serious about their business, dive deep into the work and create a business they love that supports the life they live. Pilates is their career, their passion, and their purpose and they want to do more than just get by financially.
My clients want to run thriving businesses, teach life-changing lessons and learn everything they can about the method they love – but they know they can't do it alone.
Together we'll discover your ideal clients, start marketing, and put systems in place for long-term success.
Whether you're a teacher or studio owner I'll show you how to take control of your business.  We'll look at your numbers so that you learn to love them (rather than fear them), streamline your systems and refine your marketing so you can spend less time managing your business and more time doing what you love – teaching.
Interested in improving your teaching skills and knowledge of Classical Pilates? We'll look at where you are now, strengthen the areas of classical technique you have questions on, and work together to sharpen your teaching skills.
The Cadillac Workshop Series
THE WEEKDAY WORKSHOP SERIES
The Cadillac Edition
When was the last time you had a complete apparatus review? Was it in your training program?
Were there some exercises you weren't physically ready to do or never got to try, and now you need them to advance your work and your clients?
Do you shy away from teaching some of the more advanced exercises because you're not totally confident in doing them yourself?
Are you searching for a way to delve deeper into the classical Pilates technique, but can't give up your weekend for a full workshop or conference?
I understand. I struggled for years to balance the demands of my teaching schedule with my desire for continuing education.  Attending conferences or workshops meant canceling clients or giving up my only free day during the week…
……Which is why I created the Weekday Workshop Series.
Each twelve-week course covers a single apparatus.  
Every week, you'll get 90-minutes of live lecture and demonstration, and each group is limited to eight students, so you get the individual attention you deserve.
Imagine:`
Gaining access to a small workshop environment where you can try all the exercises with one-on-one guidance and correction.

Learning the details of every exercise and how each works within the system.

Seeing others work, learning from their corrections, and discovering how to guide your own clients through the exercises.

Confidently progressing your clients toward some of the most advanced exercises and recognizing when they're ready for them.

Tapping into a community of supportive Pilates teachers around you for encouragement and discussion.
Teacher training programs are like drinking from a fire hose. There's so much information to digest: not only learning the exercises but learning to teach them and to deal with injuries.
You already have the teaching basics. With the Weekday Workshops, it's never been easier to open the door on the nuances of classical Pilates technique.
The Weekday Workshop Series is a one-of-a-kind, online program that helps you dig deep into the classical Pilates technique.
What's included?
Twelve 90-minute technique sessions covering all the exercises in the advanced classical Cadillac.

A small workshop environment where you can try all the exercises with one-on-one guidance and correction.

Videos of all the sessions for you to keep.

An active forum where you can post videos, ask questions and continue the conversation past the seminars.
How does it work?
All classes are run on the Zoom.us platform. It allows everyone to see each other (think "Hollywood Squares for Pilates") and talk to each other.

We meet virtually, over the course of eight weeks.  We'll cover five to six exercises each session. There's usually time for demonstration and for everyone to do the exercise and discussion.

If you have any questions as you work through the techniques over the week, there's an active, private forum where I'll be happy to answer anything.
What do I need to join?
A device with internet and a built-in camera

Access to the apparatus we're covering (Yup, everyone participates)
What if I can't make a session?
All of the sessions are recorded and will be available for you to download. If you have any questions on the exercises, you can post a question or video for review to the Facebook group.
As a result of the Weekday Workshop Series, you'll:
Gain a deeper understanding of the classical exercises so that you are a more effective teacher

Have a roadmap to progress your clients through even the most advanced repertoire

Understand how to deal with imbalances and injuries

See how all the exercises work within the Pilates system as a whole, so you'll never wonder what exercise to give next.
Workshop Schedule
The Cadillac 8/23/18 – 12/6/18
Thursdays             7:00 – 8:30 am Pacific
Investment: $1025
"Thank you, Karen Frischmann, for your insightful Wednesday Workshops. The 'Aha' moments that I've obtained, actively participating in the exercises AND being able to review our recordings, are invaluable for my deeper understanding of the classical work. Looking forward to the next one!" – Jo Feeney
"My online learning with Karen's 90-minute workshop is something I look forward to! The convenience of working with Karen online allows me the opportunity to take continuing education without the added expense of travel and downtime in my studio. Karen's ability to give detailed attention to all of the online participants make the workshop a truly educational experience. There is movement, discussion and problem-solving. A combination of my consistent practice and Karen's knowledge from the workshop has taken my pilates to a deeper level as a student and teacher. I'm already signed up for the next session!" – Carmen Lanteigne
" Thank you for an amazing workshop series, you are incredible.  All of your knowledge, experience, and the way you make it so easy to understand and tangible for myself/ clients made this series invaluable!  I looked forward to every week :)" – Janet Kooba
Have questions?  I'd be happy to answer them!  Email me at karen@karenfrischmann.com
Friday Live - In Studio
FRIDAY LIVE
Friday Live is a small group workout, where you'll have the opportunity to advance your technique, receive correction and direction for your body and connect with a community of amazing local teachers.
It's not an instructor lead class, but I will direct your workout based on what I see in your body, what your goals are, where you want to go with the work, and of course, leave you with a bit of homework.
This class is limited to four people so you can get the corrections you need and lots of personal attention.
$50 USD
Lessons - Internet and In - Studio
SCHEDULE TIME FOR YOURSELF
Over Skype or In – Studio
You started as a client loving the work.  You continued as an apprentice, getting your butt kicked on a daily basis. 
Now your own lessons are getting put aside as the demands of running your business and teaching full time are taking over. 
You really miss those intense workouts, the personal way you learned Pilates and the regular opportunities to deepen your knowledge of the work.
Conference and workshops are great, but they only come around every few months and nothing replaces a regular lesson to get back to what you love. Doing the work.
You wish there was a way for you to get regular lessons with an experienced classical teacher without having to leave your studio.
I'm here to help.
I'm a mentor for dedicated Pilates teachers who want to continue learning the classical Method.  I've been teaching classical Pilates for over 20 years and teaching online lessons since 2011.
My private lessons are geared to the needs and demands of Pilates teachers.  Each lesson will give you the intense workout you crave, the expertise of an experienced, classical teacher, and the in-depth analysis of the work you want to refine your teaching skills and deepen your understanding of the Pilates method.
As a result of regular  lessons you'll:
Get an amazing workout under a watchful eye
 Learn new Pilates exercises and advanced techniques
Discover new ways to problem-solve client issues and injuries
Learn the way you did when you fell in love with Pilates
Lessons are offered internationally over Skype and in-studio in my private Los Angeles studio.
Single session $150 USD
Email info@karenfrischmann.com to book a lesson.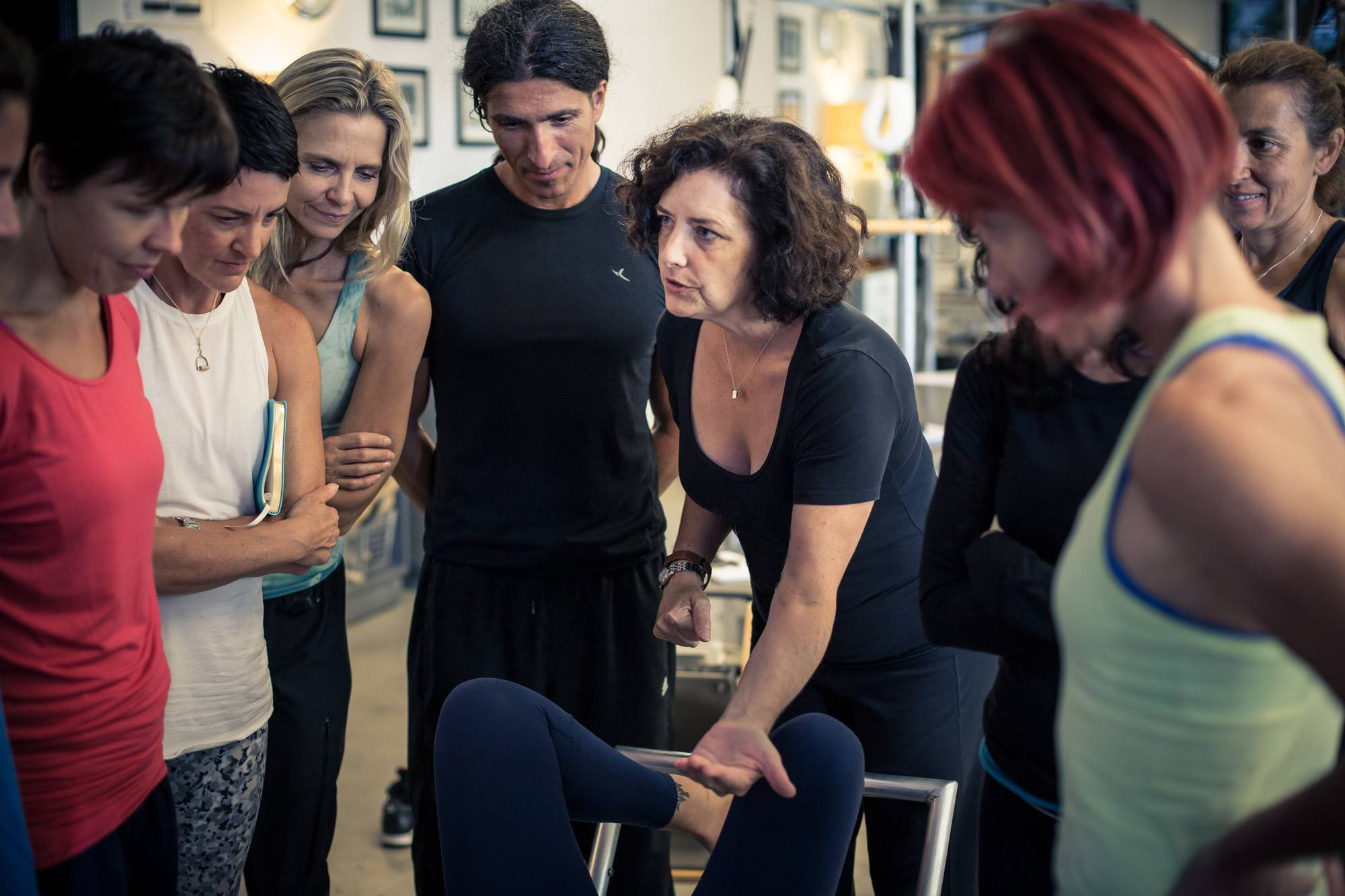 Karen Frischmann is possibly the finest Pilates instructor I have ever had. Her knowledge of the Pilates Method and the body is such that you can really tell she has digested the method and made it her own. She offers patient but firm instruction and always helps me learn something new about my body, an exercise or an overarching theme of the Pilates method. I am fortunate enough to have a regular weekly appointment with Karen and to count her among my friends. 
Andrea Maida
Karen is an amazing amazing teacher and mentor!
I started working with Karen in the fall of 2014 training to get into Vintage Pilates' THE WORK.  She became my main teacher and mentor. I connected with her right away as both a person and as a teacher.  There was no ego whatsoever, just a real person wanting the best in you.  She knew what I needed and wanted and she kept at it until I got into the WORK in 2015.
She is the Clara Pilates of our time and I would not have become the teacher I am today if it wasn't for her.  She is real, compassionate, and takes you out of your comfort zone.  Her eyes are eagle eyes, seeing everything in your body and as soon as you walk through that door, she will know what your body needs and wants then she will make that body achieve what was needed on that day!  There is nothing you can hide from her…… and yet remains very humble – indeed a rare trait nowadays when you are one of the top teachers in the world.  Thank you, Karen!
Jacqueline Martin
"Karen's knowledge of Pilates is broad and deep, based on years of practice, reflection, and instruction from master teachers like Jay Grimes and Romana Kryzanowska. She has a keen eye and perceives the smallest detail of how my body experiences a particular exercise. She then shapes my sessions according to exactly what is needed. She inspires me to discover connection within myself — mind to body, and body to itself — and also to make connections between the exercises. She is skilled at unwinding complexity and then building sequences that facilitate understanding and progress. Her creativity and curiosity seem boundless. I have many "aha" moments as Karen relates aspects of Pilates to my interests in playing music, running, and cycling. I am grateful for her patience, good humor, kindness, and skill in guiding me to discovery after discovery."
David Child
Interested in working with me, but don't see a program that's an exact fit?
Schedule a complimentary, no-obligation consult.  You can do that here.
Or email me at karen@karenfrischmann.com